Cross Posted on new Wordpress site PalmBitchResist

Love,
Chilly
A History of Mar-a-Lago, Donald Trump's American Castle
"A big house is on one acre. I have 24. It's the great estate of Palm Beach."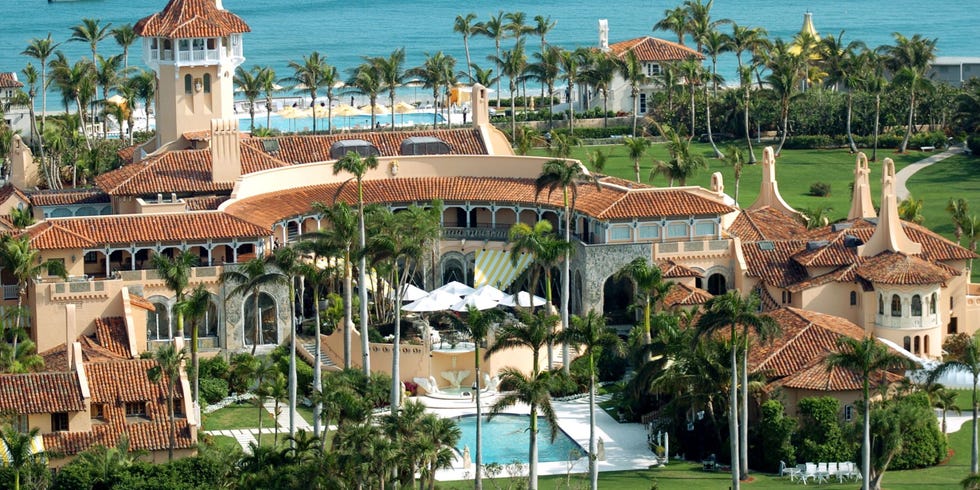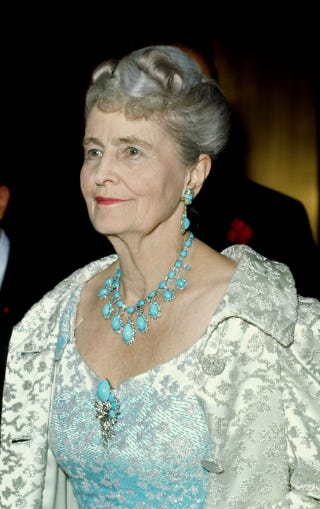 Marjorie Merriweather Post
Getty
Advertisement - Continue Reading Below
In 1973, cereal heiress Marjorie Merriweather Post donated her 128-room Palm Beach mansion to the U.S. government to be used as the "winter White House." And now that Donald Trump is president, that legacy has in some sense come true.
Post was one of the world's richest women when she finished building Mar-a-Lago in 1927 at a cost of $7 million. American architect Marion Sims Wyeth designed the estate, which sits on 20 acres that border the Atlantic Ocean on one side and Florida's Intracoastal Waterway on the other. (Wyeth also designed the Florida governor's mansion in Tallahassee).
Post willed her home to the American government upon her death with the intention that it be used as a warm-weather retreat for the president. But in 1981 the government returned Mar-a-Lago, which had been declared a National Historic Landmark a year earlier, to the Post Foundation, citing its high annual maintenance cost of $1 million.
Mar-a-Lago's Living Room In 1967
Courtesy of federal HABS—Historic American Buildings Survey in Florida
Enter Donald Trump. The mogul's reported first offer for the property—$28 million—was turned down. But he persisted and the market slumped. Trump ended up getting the property for $5 million in 1985, and paid an additional $3 million for Post's antiques and furniture. (Post's Washington, D.C estate, by the way, is now a museum. It's called Hillwood. No word on whether the Donald has toured it yet.)
Trump turned Mar-a-Lago into a private club in 1995 and built a 20,000-square-foot ballroom with $7 million in gold leaf. He also spent $100,00 on four gold-plated sinks. Basically, there's gold everywhere you look. (When Trump is in residence, he and his family stay in a private wing of the house.)
Advertisement - Continue Reading Below
Donald Trump with his then-wife Ivana and staff at Mar-a-Lago in 1987.
Getty
Last spring, Trump's former butler and Mar-a-Lago's unofficial historian, Anthony Senecal told the New York Times about the house's "library, paneled with centuries-old British oak and filled with rare first-edition books that no one in the family ever read." (Senecal was also investigated by the Secret Service last year for threatening comments he made on Facebook about Barack Obama)
Trump hasn't always seen eye-to-eye with the locals over his plans for Mar-a-Lago. In the last decade, for example, he has fought the town of Palm Beach over the size of this American flag. The original, installed in 2006, was on an 80-foot pole and Palm Beach ordinances forbade flag poles higher than 42 feet; violation carries a daily fine of $250.
Trump sued for $25 million claiming his right to free speech was being violated. Ultimately he and the town came to an agreement: Trump switched to a smaller flag posted on a 70-foot pole. And instead of paying fines, he donated $100,000 to veterans' charities.
Then last year Trump sued Palm Beach Country for what he called "deliberate and malicious" moves to direct departing flights from the Palm Beach International Airport over Mar-a-Lago. He dropped that suit in November, after the election. It's a moot point now anyway, as the secret service requested a no-fly zone be established over Mar-a-Lago when Trump is in residence.
Advertisement - Continue Reading Below
When he opened Mar-a-Lago, Trump welcomed Jewish members, African-Americans, and gay couples, who had been prohibited from joining other Palm Beach clubs. Club members reportedly used to pay a $100,000 initiation fee and annual dues of $14,000 (along with taxes and an annual food minimum of $2,000) for the privilege of using the facilities like this pool. On January 1, following Trump's November victory, the inauguration fee was reportedly increased to $200,000.
It is, by most accounts, a profitable business. Trump made $15.6 million from the club in 2014. He reportedly stands to profit even more as president, both through higher fees and through increased interest in the club and its events.
The Beach Club is on the Atlantic Ocean side of the property.
Getty
So far, he's visited the property five times as president. He took his first trip there for the Red Cross Ball in early February and hosted Japanese Prime Minister Shinzo Abe the following weekend. Trump returned a few days later for Presidents' Weekend, when he played a round with pro golfer Rory McIlroy at the nearby Trump International Golf Club and announced Lieutenant General H. R. McMaster as his pick for national security advisor. He visited two weekends in March, including a March 17-19 trip that included First Lady Melania Trump and their son, Barron, along with her parents, Viktor and Amalija Knavs.
Trump apparently feels more comfortable at Mar-a-Lago than almost anywhere else, and his pleasure in the estate was in evidence when I spoke to him about it back in 2014. "I have 24 acres in Palm Beach and nobody has anything like that," Trump told me at a show jumping event there in 2014. "A big house is on one acre. I have 24. It's the great estate of Palm Beach."
The estate is actually 20 acres, but who's counting?
Follow Sam on Twitter.


^ed