Have you seen that traffic?? Just a bit over the top. $3 Million of so and I can't get a courtesy sniff.
Mar-a-Lago rap sheet: noise, traffic stops and a $28,000 ring theft that never was
Police have been called to Donald Trump's Florida resort more than 300 times since 1985, mostly for minor incidents but also a bomb threat and a large fire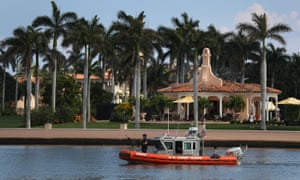 Donald Trump's weekend trips to Mar-a-Lago with his entire security detail have upended life in Palm Beach County. But even before Donald Trump was president, daily life at the opulent club raised a steady stream of low-level security issues – a records request filed by the Guardian revealed more than 300 police incidents recorded at the club's address on 100 S Ocean Blvd and the area outside, between 1985 and 2016.
Many of these occurrences were mundane: over 70 traffic stops, 25 suspicious person and trespass reports and 10 property damage incidents.
Others were potentially more serious, a bomb threat in March 2003 in which an anonymous caller told the club's receptionist: "there will be a bomb tonight that will blow" before hanging up the phone (the threat was unfounded); a drunk driver who rammed into barricades outside Mar-a-Lago in 1994 because "he disliked Donald Trump", and 14 incidents of theft and larceny.
But many instances shed a light on the exclusive extravagance of daily life at the club, and the prejudices of some club-goers that prompted police involvement that was, in some instances, dubious at best.
In March 1996 a local member reported his 18-carat gold, emerald-encrusted ring, valued at $28,000 stolen from a bathroom in the club, prompting a detective-led investigation. Six days later the member called police to report he had found the ring in the back of his car. The same year, in October, another member called police to report that a club parking valet had stolen her $800 gold chain and intended to press charges. The next day she found the chain in her glove compartment.
At a 2003 charity gala for the Florida-based Unicorn Children's Foundation a misunderstanding over a raffle prize announcement resulted in a police investigation that lasted nearly a month. One guest, whose name was erroneously read out by the prize announcer, was handed a $12,000 pair of 18-carat gold butterfly pins encrusted with diamonds, which she refused to hand back after being informed of the mistake. Prosecutors eventually declined to bring charges.
In a 1992 theft complaint, a security guard for the billionaire reported a sign from outside the club emblazoned with the word "private" had been stolen. Police eventually assessed the value of the sign at $10 as the guard told officers "he did not know and was unable to tell me if Mr Trump would press charges or not". The case was never solved.
The documents also showcase the longstanding antipathy towards Trump's club among many of the area's well-heeled neighbours.
Throughout the 1990s the club was hit with a series of noise complaints filed by furious Palm Beach residents as events raged on into the night. In one such incident on a Sunday in March 1999, police were called out to the property multiple times as a thumping dance party went on beyond midnight. One officer who was instructed to drive by the club reported: "I could clearly hear a Diana Ross song I'm Coming Out playing on the property." The music was eventually turned off as the complainant resolved to raise the matter with the town council.
In another, on a Saturday evening in 1994, 700 guests spilled on to the streets outside the club as a resident complained the noise was a regular occurrence. He told the responding officer: "all he is trying to do is sleep". Again, after multiple call-outs, the noise died down.
It wasn't just the noise that rattled the locals. A series of health and safety incidents reported to police also forced local authorities to intervene.
In April 1999 Charles Kelman, the pioneering cataract surgeon and amateur pilot, attempted to land a helicopter on the club's grounds, in violation of a town ordinance prohibiting aircraft from landing and taking off within town limits. Despite Kelman's profuse apologies he was given a warning by the responding officer. That ordinance has now been overturned to allow the president's military helicopter Marine One to land on the grounds.
At an event in January 2004 in which the R&B singer Natalie Cole was scheduled to perform, one of her stylists left a hair curling iron turned on inside one of the club's beach cottages that was functioning as a dressing room. It set off a large fire as the club's alarm and sprinkler system failed to activate, resulting in a local fire marshal investigation. No one was injured.
Since you're here …
… we have a small favour to ask. More people are reading the Guardian than ever but far fewer are paying for it. And advertising revenues across the media are falling fast. So you can see why we need to ask for your help. The Guardian's independent, investigative journalism takes a lot of time, money and hard work to produce. But we do it because we believe our perspective matters – because it might well be your perspective, too.
If everyone who reads our reporting, who likes it, helps to pay for it, our future would be much more secure.


^ed